"The Crossing" is an exemplary example of creating a new life and role for this town centre church.
The Crossing' is owned by St. Paul's Church. The project seeks to put the Christian faith into practice. The aim is to be a heart of celebration in the centre of Walsall.
The ground floor consists of seven retail units which celebrate arts and crafts, fashion and flowers, books, gifts and music. The Day Chapel is open to all from Monday to Saturday, 8.3Oam to 5.3Opm, for private prayer and quiet reflection.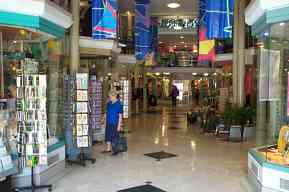 The ground floor retails units with restaurant on mezzanine first floor.
Looking down from the mezzanine first
floor to ground floor retail area.
The first floor includes a restaurant, which provides quality food at competitive prices in an uplifting, smoke-free environment. This level also includes the office of Walsall Carers' Trust, the Centre Manager's Office, and the offices of St. Paul's Church, where a Church of England priest is usually available.
The second floor is used for worship by St. Paul's Church at 10.30am every Sunday. The meeting area and ancillary rooms are also used for a wide variety of functions, Including conferences, training events, exhibitions and concerts.
'The Crossing' refers to the meeting point of church and community as well as to the crossing over from death to new life in Jesus, which is at the heart of the Christian faith.
For more information:
Saint Paul's Church at The Crossing
Church Office, Darwall Street, Walsall, West Midlands, WS1 1DA
Tel: 01922 645992; Fax: 01922 724897
The Crossing at St Paul's